Dear Phusers and Friends,
Over the last month our international team of superheroes has done more flying around than usual. Matt and Mitch took leave of Austin and Bristol, respectively, to join James, Mike Masci and Tamas Perlaky for a 3-day brandathon sprint in Toronto.
Their shotgun tour of the city was given over entirely to conference rooms and dry-erase boards, cool restaurants (thanks, Cristina!), and beating back great ideas with a stick. Details of that project are still under wraps, but we want to extend a heartfelt thanks to Tamas and everyone else involved for their efforts!
In other team-related news, internal projects are progressing at a faster pace thanks to the success of a project that james piloted called Random Hack Days. For 2 days at the end of each month, we all stop what we're doing and pivot to work on internal projects only: things like newsletters and blogs, bug fixes and minor improvements to thephuse.com, and a nifty little team app called P.A.M (Phuse Availability Monitor).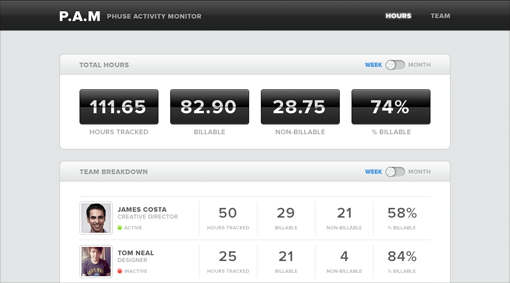 Applications we create during these sessions will be useful for both our clients and our team. We work across great distances and automating some of the more complicated aspects of project management will benefit everyone.